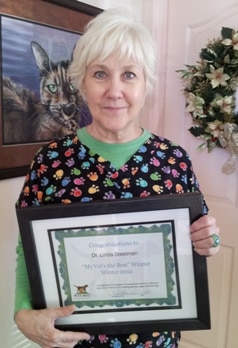 Dr. Linda Steelman wins latest My Vet's the Best contest
Boise, Idaho (March 20, 2012) – Pets Best Insurance, a leading nationwide pet insurance agency, announced today that Dr. Linda Steelman of the Bonanza Cat Hospital in Las Vegas has been selected as the latest winner of the company's nationwide My Vet's the Best contest. In recognition of her dedication to serving pets in the Las Vegas Valley, Pets Best Insurance awarded Dr. Steelman $1,000 to treat animals in need.
After receiving a nomination from one of her clients, Dr. Steelman competed against five veterinarians from across the nation during the quarterly contest, winning with an impressive 44.2 percent of the online votes cast by the public through the Pets Best Insurance website, www.petsbest.com, and the company's increasingly popular Facebook page.
Dr. Steelman provides free care and treatment for abused, abandoned and chronically ill cats through The Poppy Foundation, a charitable organization that offers a much-needed home to dozens of felines in the Las Vegas area. Many of these cats are considered unadoptable and would not have access to treatment and shelter without assistance from The Poppy Foundation.
"We created the My Vet's the Best contest to provide funds for animals in need of support and recognize veterinarians like Dr. Steelman who share our company's steadfast commitment to keeping pets healthy and safe," said Dr. Jack Stephens, president and founder of Pets Best Insurance. "As a veterinarian, it brings me great pride to announce that Pets Best Insurance will continue to honor our nation's finest and most compassionate veterinary medical professionals for a third consecutive year."
In 2010, Pets Best Insurance became the nation's first pet insurance company to develop a contest aimed at recognizing outstanding veterinarians. Each year, hundreds of veterinarians receive nominations from grateful pet owners, with online voters selecting the quarterly contest winners.Read More…