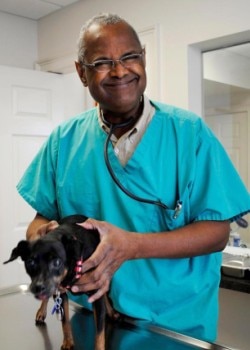 Contest honors country's most respected veterinarians, provides funding for animals in need 
BOISE, Idaho – Pets Best Insurance Services, LLC, a leading U.S. pet insurance agency, announced today the most recent quarterly finalists of its My Vet's the Best contest, which honors the nation's most exceptional veterinarians and provides them with funding to treat animals in need.
Pets Best selected the following six finalists from nominations submitted by pet owners across the country:
Dr. Sarah Coburn – North Slope Borough Veterinary Clinic, Barrow, Alaska 
Dr. Coburn, who practices in a remote Alaska town accessible only by plane, often flies to smaller villages to treat injured and ill animals.
Dr. Natalie Dyson – St. Francis Veterinary Center, Navarre, Fla.
Dr. Dyson often takes in critically ill pets to monitor them in her home. She also volunteers her veterinary skills to a number of local organizations, including a nonprofit she created.
Dr. Denise Trapani – Animal Health Center, Walpole, Mass.
Dr. Trapani, who serves as a licensed wildlife rehabilitator, works with several rescue organizations in Massachusetts to help place and treat homeless pets.
Dr. Robert Slobody – Meadowlands Veterinary Center, Willoughby, Ohio
Dr. Slobody has led the Ohio Veterinary Medical Association's task force on pet overpopulation. He also created the Jake Fund to help pet owners in financial need.
Dr. Kermit Harvey – Animal Hospital of Tampa Inc., Tampa, Fla.
Dr. Harvey has provided veterinary care to his community for more than three decades. He also uses his office as a hurricane shelter for local pets.
Dr. Jennifer Petrovich – Clyde Park Veterinary Clinic, Grand Rapids, Mich.
Dr. Petrovich and her team members have rescued more than 3,500 cats through the two nonprofit organizations she created, Crash's Landing and Big Sid's.Read More…