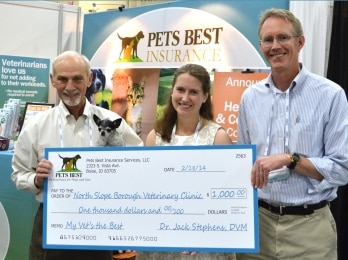 2013 My Vet's the Best grand prize winner Dr. Sarah Coburn to aid pets in need with prize money
LAS VEGAS – Pets Best Insurance Services, LLC (Pets Best), a leading U.S. pet insurance agency, has named Dr. Sarah Coburn the 2013 grand prize winner of its nationwide My Vet's the Best contest. Dr. Coburn practices at North Slope Borough Veterinary Clinic in Barrow, Alaska, which is the sole source of veterinary care within an 89,000-square-mile area.
Pets Best created the My Vet's the Best contest in 2010 to recognize outstanding veterinarians and provide funding for the treatment of animals in need. The agency awards several seasonal winners each year and announces one annual grand prize winner during the Western Veterinary Conference in Las Vegas. Nearly 1,000 veterinarians received nominations from grateful pet owners during the 2013 contest.
Dr. Jack Stephens, president and founder of Pets Best Insurance, announced Dr. Coburn as the grand prize winner today at the Western Veterinary Conference. Dr. Coburn, who was selected from a group of 24 grand prize finalists across the U.S., received a check for $1,000 to support her ongoing efforts to address animal health issues in her region. Dr. Coburn said she plans to use the prize money to provide shelter and insulation for outdoor dogs that otherwise would not have protection from the frigid arctic weather.Read More…