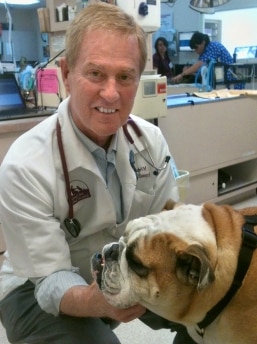 Dr. Dennis Arn selected as winner of My Vet's the Best Contest, receives $1,000 to treat animals in need
BOISE, Idaho – Pets Best Insurance, a leading U.S. pet insurance agency, announced today that Las Vegas veterinarian Dr. Dennis Arn has been selected as the most recent winner of the company's nationwide My Vet's the Best contest. Arn, who has strived to transform Desert Inn Animal Hospital into an elite animal medical center, won the contest for outstanding veterinary service after receiving more than 45 percent of the online votes cast by thousands of people through the Pets Best Insurance website, www.petsbest.com, and the company's Facebook page.
Arn was among hundreds of veterinarians nominated for the quarterly award, which Pets Best created to honor veterinarians who go above and beyond to keep animals healthy. Arn was nominated for the prestigious award by a decades-long client who touted Arn's willingness to treat pets when their owners cannot afford procedures, in addition to his innovative utilization of stem cell therapy.
Arn, who bested five other contest finalists in a public vote, received $1,000 from Pets Best to treat animals in need. The pet owner who nominated him for the award received $200.
"We created the My Vet's the Best contest to spotlight exceptional veterinarians who work tirelessly to keep pets healthy and promote the advancement of animal treatment," said Dr. Jack Stephens, president and founder of Pets Best Insurance. "Pets Best Insurance is proud to recognize veterinarians like Dr. Arn who share our company's commitment to pet health. He has improved the lives of so many animals with his clinic's advanced treatment methods. Beyond that, he is a true animal lover who has made sacrifices and waived payments throughout decades of healing families' beloved animals."Read More…