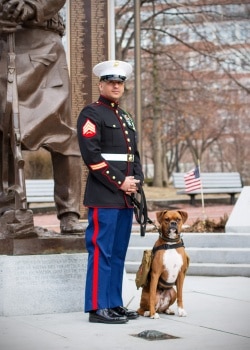 BOISE, Idaho – In an effort to support members of the U.S. military and their pets, Pets Best Insurance Services, LLC (Pets Best), a leading U.S. pet insurance agency, and nonprofit Dogs on Deployment announced today that Pets Best will match up to $1,000 in donations made to Dogs on Deployment through Memorial Day weekend. Dogs on Deployment is a nationwide nonprofit that connects military service members with volunteers to board their pets for free when they are deployed.
Pets Best welcomes people across the U.S. to visit www.petsbest.com/blog/dod-donation-match and donate to Dogs on Deployment. Pets Best also encourages people to volunteer as pet foster parents through Dogs on Deployment to support the organization's mission.
Founded in June 2011, Dogs on Deployment provides an online network at www.dogsondeployment.org where military pet owners can find volunteers to board their pets during service commitments. In addition, the organization offers financial grants for emergency pet care and advocates for military pet owners' rights and education.
"Pets often serve as trusted companions for the brave men and women of the U.S. military, but in worst-case scenarios, these loyal pets are relinquished to shelters because their owners are deployed to serve our country for months and years at a time. Pets Best is passionate about ensuring these pets stay safe in a loving environment while their owners are away from home," said Dr. Jack Stephens, president and founder of Pets Best. "Dogs on Deployment provides a valuable service for members of the armed forces and their beloved animals. As a pet-focused organization, we hope to promote increased contributions to the nonprofit's worthy cause."
As part of the effort to raise funds for Dogs on Deployment, Pets Best is also offering a special promotion for pet owners across the country. People can visit www.petsbest.com/dogsond for a 5 percent discount on pet insurance plans offered by Pets Best. Dogs on Deployment will receive an additional $40 donation for policy applications submitted through this link.