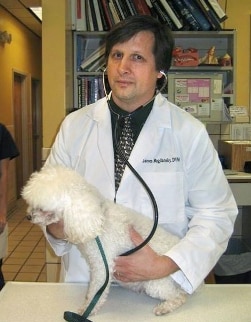 Dr. James Bogdansky named the latest winner of the My Vet's the Best contest
BOISE, Idaho – Pets Best Insurance, a leading nationwide pet insurance agency, announced today that Dr. James Bogdansky of the Country Club Animal Hospital in Miami is the latest winner of the agency's nationwide My Vet's the Best contest. In acknowledgment of his dedication to helping pets, Pets Best Insurance awarded Dr. Bogdansky $1,000 to treat animals in need.
After receiving a nomination from one of his grateful clients, Dr. Bogdansky competed against five veterinarians from across the nation during the quarterly contest, winning a tight race by pulling ahead at the end with an impressive 3,562 votes. The second-place veterinarian received 3,092 votes. Thousands of online votes are cast each quarter by the public through the Pets Best Insurance website, www.petsbest.com, and the company's popular Facebook page.
For 22 years, Dr. Bogdansky and his family have been actively involved in rescuing and adopting a multitude of species in Dade County, including birds, dogs, cats, ducks, rabbits, turtles, skunks and snakes. Dr. Bogdansky has also worked alongside various rescue and animal welfare organizations, such as Cat Network, PAWS 4 YOU and The House Rabbit Society. With his $1,000 winnings from the My Vet's the Best contest, Dr. Bogdansky plans to establish a foundation to serve underprivileged animals.
In 2010, Pets Best Insurance became the nation's first pet insurance agency to develop a contest aimed at recognizing outstanding veterinarians. Each year, hundreds of veterinarians receive nominations from appreciative pet owners. An internal panel comprised of veterinarians and veterinary technicians selects the quarterly nominees. While voting for the contest's quarterly winners is open to the public through the Pets Best Insurance website and Facebook page, each year's grand prize winner is selected by the internal review panel.Read More…