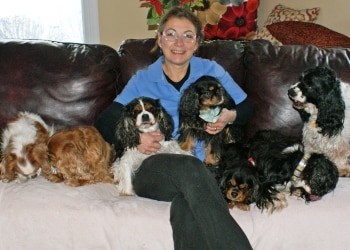 18,720 votes cast in latest My Vet's the Best contest.
BOISE, Idaho – Pets Best Insurance Services, LLC, a leading U.S. pet insurance agency based in Boise, Idaho, announced today that veterinarian Dr. Judy Morgan has been voted the most recent winner of the agency's My Vet's the Best contest. The nationwide contest honors veterinarians for outstanding service.
This installment of the contest saw 18,720 votes cast from pet owners across the U.S. on the Pets Best website, www.petsbest.com, and on the company's Facebook page. Hundreds of veterinarians were nominated and Dr. Morgan competed against five other finalists, winning with 7,189 votes.
"We are thrilled to see so many enthusiastic pet owners getting involved in the My Vet's the Best contest with their nominations and voting," said Dr. Jack Stephens, president and founder of Pets Best. "It is important to recognize veterinarians, like Dr. Morgan, who work tirelessly to better the lives of animals, not only in their clinic but in their community as well."
Dr. Morgan received her degree in veterinary medicine from the University of Illinois in 1984.
She has operated Clayton Veterinary Associates in Clayton, New Jersey since 1993 and opened her second practice, Churchtown Veterinary Associates, in Pennsville, New Jersey in 2010.
"I think my clients and pet-owning friends understand how passionate I am about pet rescue and giving our pets the best life possible," said Dr. Morgan of why she believes she won.
As the winner, Dr. Morgan received $1,000 from Pets Best to treat animals in need. She plans to use the prize money to assist with dog rescue efforts. Dr. Morgan is actively involved in a Cavalier King Charles Spaniel rescue and an English Toy Spaniel rescue, where she transports, fosters, and provides care to abandoned, neglected, and abused animals. She also plans to place the remaining prize money in an account for other locally rescued pets, including puppy mill rescues.Read More…