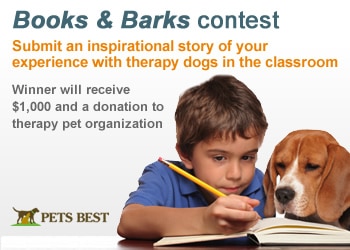 Nationwide Books & Barks contest to provide winner with funds for classroom supplies
Boise, Idaho – Pets Best Insurance Services, LLC (Pets Best), a leading U.S. pet insurance agency, has announced the launch of their first Books & Barks contest. Pets Best developed the contest to promote the benefits associated with utilizing therapy dogs to assist students in classrooms across the nation.
Pets Best invites therapy pet handlers and organizations, students and educators to submit inspirational stories about therapy dogs in classrooms and the positive effects they have on students.  The winning class or school will receive $1,000 from Pets Best for classroom supplies. In addition, Pets Best will offer a $500 donation to the therapy dog handler's favorite animal-related nonprofit organization.
"Therapy dogs can provide a calming and supportive presence for children who are trying to learn something new, and we are proud to honor the educators who work to boost students' confidence by bringing therapy dogs into the classroom," said Dr. Jack Stephens, president and founder of Pets Best. "Pets Best looks forward to hearing heartwarming stories of children learning alongside their new four-legged classmates."
Representatives from therapy dog organizations, students and educators can enter the contest by visiting www.petsbest.com/forms/books-and-barks-contest. Submissions should include a short essay of 250 words or less. A judging panel comprised of representatives from Pets Best will select finalists from the submitted entries based on their unique experiences and heartfelt stories. The public will then have a chance to vote online for their favorite submissions. The submission deadline is August 31st, and online voting will take place from Sep. 8th – Sep. 25th. Read More…