Founder and President Dr. Jack Stephens to step down from day-to-day operations, with former COO Chris L. Middleton selected to serve as president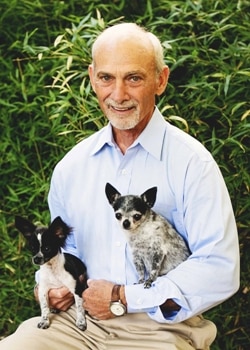 BOISE, Idaho – Dr. Jack Stephens, founder and president of Pets Best Insurance Services, LLC, announced today he plans to retire from his day-to-day responsibilities with the nationwide pet insurance agency in an effort to pursue his passion for travel and spend additional time with his family. Chris L. Middleton, who previously served as the chief operating officer of Pets Best, will now serve as the company's president, bringing decades of valuable leadership experience to the position.
Dr. Stephens, who co-founded the Boise, Idaho-based company in 2005 with CEO Greg McDonald, will remain actively involved in guiding Pets Best's direction as a member of the executive committee, a member of the board of directors and a significant shareholder. Dr. Stephens will also continue to represent Pets Best as a member of the North American Pet Health Insurance Association, a group of pet health insurance industry leaders that he co-founded.
A dedicated veterinarian, Dr. Stephens has remained a prominent figure in his field since he founded the U.S. pet insurance industry in 1981. He went on to present the nation's first pet insurance policy to famous television dog Lassie in 1982. He founded the industry with the vision of reducing incidents of pet owners euthanizing their animals for economic reasons.
"I take tremendous pride in my work during the past 33 years to promote the valuable benefits of pet insurance, but I am ready to take a step back in order to travel and enjoy more time with my family," Dr. Stephens said. "I have complete confidence in Chris' commitment to Pets Best and to advancing our mission of helping pets receive the best care without financial constraints."Read More…