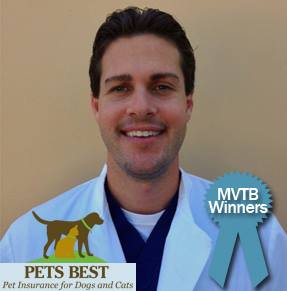 Latest My Vet's the Best contest honors veterinarian Dr. Pat Echolds
BOISE, ID – Pets Best Insurance Services, LLC, a leading U.S. pet insurance agency based in Boise, Idaho, announced today that veterinarian Dr. Pat Echolds has been voted the most recent winner of the agency's My Vet's the Best contest. The nationwide contest honors veterinarians for their outstanding service.
The latest round of the contest brought in 7,600 votes cast by pet owners across the U.S. through the Pets Best website, www.petsbest.com, and the company's Facebook page.
"The thousands of votes cast in this contest demonstrate how many pet owners appreciate the efforts of dedicated veterinarians," said Dr. Jack Stephens, founder and director of Pets Best. "Dr. Echolds embodies the hard work and passion that are essential to providing the highest quality of veterinary care, and Pets Best is pleased to see so many people support his work."
Dr. Echolds, who practices at the Rancho Niguel Animal Hospital in Laguna Niguel, California, won the contest after receiving 4,054 online votes. He was among hundreds of veterinarians nominated for the seasonal award. The contest's other five finalists each received a significant number of votes. Runners-up Drs. Frank and Mindi Metzler from 2222 Veterinary Clinic in Austin, Texas, finished with 2,191 votes.