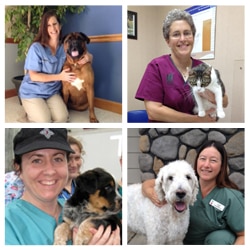 Pets Best and NAVTA announce results of Why I Love Being a Vet Tech contest
Pets Best Insurance Services, LLC, a leading U.S. pet insurance agency based in Boise, Idaho, announced today the results of the agency's first annual Why I Love Being a Vet Tech contest. The nationwide contest, developed by Pets Best and the National Association of Veterinary Technicians in America (NAVTA), honors veterinary technicians for their outstanding service and devotion to their profession.
Finalists entered the contest by submitting their own stories highlighting why they decided to become vet techs, why they're passionate about their profession and what they love most about going to work each day. The contest brought in 6,322 votes cast by pet owners, veterinary staff, community members, friends and family of the eight finalists from across the U.S. through the Pets Best website, www.petsbest.com, and the company's Facebook page.
"Veterinary technicians provide valuable veterinary care for animals across the nation, and the interest this contest generated reflects pet owners' widespread appreciation for all of their efforts," said Dr. Jack Stephens, founder and director of Pets Best. "Pets Best enjoyed reading the inspiring stories of committed veterinary technicians, and we look forward to hearing many more for years to come."
Of the 128 contest submissions, eight outstanding entries were chosen by a Pets Best panel of fellow veterinary technicians to represent the industry in this nationwide contest. The eight finalists were all awarded $200 Visa gift cards and a one-year NAVTA membership. The eight finalists were:Read More…