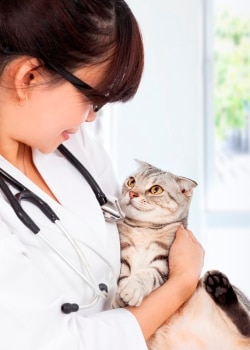 Pet insurance agency hopes to help cat owners recognize symptoms of common conditions
BOISE, Idaho – In recognition of National Take Your Cat to the Vet Day on Aug. 22, Pets Best Insurance Services, LLC has released a list of the five most common feline illness claims filed by the agency's clients. Pets Best, a leading nationwide pet insurance agency, released the list today to help cat owners recognize the symptoms of common illnesses and seek veterinary treatment when necessary.
Although it is commonly believed that cats rarely fall ill, Pets Best reports that five of the most common feline health issues represent approximately 30 percent of the agency's total claims for cats across the nation. These illnesses and conditions can often be difficult to identify, as cats instinctively tend to hide ailments from their owners. Catching serious health problems early on is crucial, as these issues not only dramatically impact felines' quality of life, but they can also result in steep treatment costs.
"Cat owners view their pets' health as a high priority, yet many are unaware of the subtle warning signs that indicate their animals are suffering," said Dr. Jack Stephens, president and founder of Pets Best. "It is our mission to keep pets healthy and ensure their owners are able to afford treatment when health issues arise."
Pets Best encourages cat owners to watch closely for the symptoms of the five most common conditions among cat-related claims filed with the agency.
1. Chronic kidney failure
Symptoms can include anorexia, vomiting, lethargy, diarrhea, constipation, depression and weight loss. Additional warning signs are increased thirst, acute blindness, seizures and comas, blood in the cat's urine, increased frequency of urination and an increased amount of urine. Chronic kidney failure represents 8.5 percent of all feline claims received by Pets Best.
2. Hyperthyroidism
Common symptoms are a voracious appetite, weight loss, increased thirst and urination, vomiting, diarrhea and restlessness. This condition generates 7.1 percent of Pets Best's feline claims.