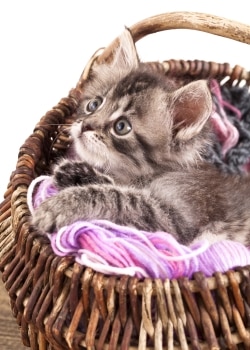 BOISE, Idaho – Pets Best Insurance Services, LLC (Pets Best), a leading U.S. pet insurance agency, today released a list of the most bizarre cat insurance claims recently submitted to the agency. Although the agency's most unusual claims often stem from canine companions, felines have also generated a wide variety of surprising claims as a result of hazardous whims.
"Cats are curious and adventurous animals, and their behavior can often lead to injuries and accidents that are costly to treat," said Dr. Jack Stephens, founder and president of Pets Best. "When these types of unexpected issues arise, pet insurance can be a useful alternative to paying out of pocket for veterinary care. We encourage all cat owners to be prepared for emergencies and explore a variety of coverage options."
Below are several of the most bizarre cat claims Pets Best has processed in recent years:
Snore-Free Feline
Many cats are known for appreciating deep, sound sleep, but American shorthair Pee Wee pursued this to a whole new level. Instead of applying a nasal strip over his nose, Pee Wee ate the adhesive product and was caught in the act by his owner. Worried that the unusual snack would make Pee Wee ill, his owner took him to a veterinarian, who induced vomiting and then provided a helpful anti-nausea injection.
String Addiction
Ragdoll cat Furby just can't say no to the allure of a ball of string. The cat ingested a piece of string in January 2011 that required surgical removal. Furby slurped another string in January 2012 that ended up stretched the entire way from his mouth to his colon, requiring surgical removal again. Pushing his luck with the "third time's a charm" motto in January 2013, he consumed yet another string, landing him in the operating room once more.
Bunny BuffetRead More…