Pets Best Insurance Announces Fourth Quarter Finalists of National My Vet's the Best Contest
Finalists hail from 6 states, previous winner saved stray kitten with contest winnings
Boise, Idaho – (January 17, 2012) Pets Best Insurance, a leading U.S. pet insurance agency, is pleased to announce the finalists for its 2012 fourth quarter My Vet's the Best nationwide contest. The six finalists are:
Dr. Lori Cabell – Metropolitan Veterinary Associates – Norristown, Penn.
Dr. Nancy Matthews – A Cat's View Veterinary Hospital – Valley Center, Calif.
Dr. Helen Campbell – Old York Veterinary Hospital – Florence, N.J.
Dr. Dave Hallstrom – Normandale Veterinary Hospital – Edina, Minn.
Dr. Linda Steelman – Bonanza Cat Hospital – Las Vegas
Dr. Georgia Maureen Bushnell – Redland Animal Hospital – Homestead, Fla.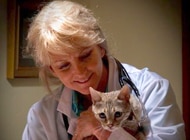 Hundreds of veterinarians from all over the country receive nominations from pet owners who believe their veterinarian has gone above and beyond the call of duty. Nominations – submitted through the Pets Best Insurance website and the company's Facebook page – include heartwarming and at times harrowing tales of why people believe their vet is the best. The fourth quarter nominations were narrowed down to the six finalists by an internal review panel at Pets Best.
Voting on the six finalists is open to the public through Feb. 10, 2013. Voting polls can be found on the Pets Best Insurance website, at http://forms.petsbest.com/vote/and on the company's Facebook page (www.Facebook.com/PetsBestInsurance). Pets Best encourages everyone to cast their vote to determine which of the six finalists should win the fourth-quarter title. The winner will receive $1,000 to treat animals in need, and the nominator will receive $200 as a thank you for sharing their story.
"As a veterinarian, I know how difficult it is to see animals that need treatment, but their owners can't afford it," said Dr. Jack Stephens, the president and founder of Pets Best Insurance, who also founded the nation's pet insurance industry in the early 1980s. "It's the fundamental reason I started pet insurance, and it's the reason we launched the My Vet's the Best contest. We want to recognize veterinarians who are going the extra mile and assist them financially in treating needy animals."Read More…