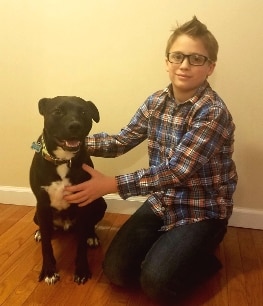 Jordin with his therapy dog, Hank, from Gateway Pet Guardians.
BOISE, Idaho – Pets Best Insurance Services, LLC, (Pets Best), a leading U.S. pet insurance agency based in Boise, Idaho, is pleased to announce a $500 donation in support of Gateway Pet Guardians.
Gateway Pet Guardians is a nonprofit shelter and pet rescue based in St. Louis, Missouri, that makes a difference in people's lives across the United States with pet therapy adoption programs. Pets Best recognizes and supports the importance of therapy programs which is why during the month of February, for each new enrolled Pets Best policy holder, a portion of that new policy was donated back to Gateway Pet Guardians.
"We've been partnering with Gateway Pet Guardians for years now, but when we saw the story about Jordin Brewer, a nine-year-old boy from Missouri who has been battling with debilitating anxiety for years, to the point where his mom, Jennifer, couldn't take the burden anymore and sought any help she could find, we knew we needed to get involved," said Chris L. Middleton, president of Pets Best.
After researching dog therapy programs that might be a fit for her son's situation, she found that adopting a certified therapy dog to be both cost-prohibitive and time-consuming. When a volunteer at Gateway Pet Guardians and family friend of the Brewers heard of their search for a support dog for Jordin, she thought of a solution.Read More…