5 Reasons Your Indoor Cat Needs Pet Insurance
Posted on February 8, 2013 under Cat Insurance
By: Dr. Jack Stephens, president and founder of Pets Best Insurance. Dr. Stephens is the veterinarian who launched pet insurance in the U.S. over 30 years ago.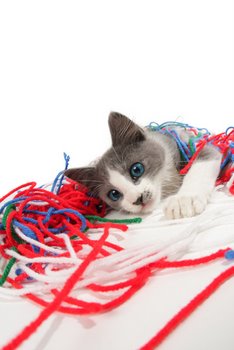 Many people don't think cats have as many medical problems as dogs, especially if they live indoors. Because of this misconception, people tend to get pet health insurance for their outdoor cats and dogs, but not for indoor cats.
Indoor cats still incur serious and expensive cat health care problems.
5 Reasons You Need Pet Insurance For Your Indoor Cat
1. Cats are good at hiding symptoms: Cats are more sedentary by nature, which mean that cat owners are not as likely to notice symptoms their kitties might be displaying.
2. Indoor cats are still at risk: Common health problems for all cats include- cystitis, digestive upsets, cancer, diabetes, thyroid disease, leukemia, kidney failure and even heart disease. Thousands of medical conditions can occur in indoor cats.
3. The cost of treating cats is just as expensive as other animals: Cats tend to have fewer veterinary visits overall, but when they do have an illness or injury, the veterinarian costs can still be in the hundreds to thousands.
4. Pet insurance coverage is cost effective for cats and plans start around $20 per month. The cost of monthly premiums for your cat are based on your pets breed and age, and your location and your chosen coverage. Filing a claim won't increase your premium. Learn more at www.petsbest.com/cat-insurance or get a quote to see how much it'd cost you.
5. Pet insurance increases spending power. Pet owners who have insurance for indoor cats will be able to afford nearly five times the veterinary care than those who don't. Veterinary medical advances have given far more treatment options than ever before, but these often come with a high price tag. At Pets Best Insurance, you can choose a reimbursement level up to 90% of the veterinary bill.
Overall, cat insurance allows pet owners to budget for their cats' health care and provides peace of mind in the case of pet health emergencies and unexpected illnesses.
Consider protecting your cat's health and your pocketbook with pet insurance.
or Call Pets Best at 877-738-7237
—
Article originally published in June 2010; updated and republished February 2013.