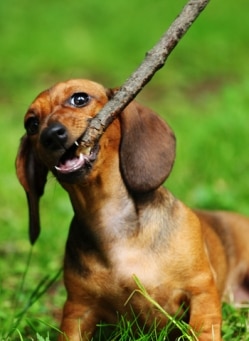 Chewing is a natural action for dogs. It helps keep their teeth clean and gums healthy. Chewing also seems to provide a satisfying activity for dogs that calms them and helps in relieving boredom. But chewing the wrong objects can be harmful and result in a fractured tooth, lacerated gum, constipation or blockage of the intestinal tract. All of which can result in a large vet bill.
The following items may seem innocent, but they should not be provided (or available) to your dog for chewing:
1. Ice
Many dogs come running to the sound of the refrigerator ice machine hoping to snag a fallen icy treat. But chewing on ice wears down tooth enamel (the protective cover for teeth). Ice is even more dangerous for small dogs, as chewing on a piece of ice can fracture a tooth.
2. Sticks and Wood

Many dog owners utilize sticks as a fetching toy when outside on walks and at the park. The danger though is that the dog begins to use sticks as toys and many dogs will begin chewing on the stick. Wood splinters easily when chewed on and shards can jam into the dog's mouth causing an infection. Also if pieces of wood are swallowed, it can cause intestinal blockage.