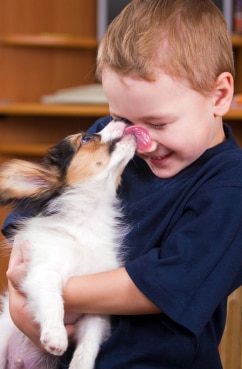 A disease that is transmissible from animal to human is known as a zoonotic disease. As a veterinarian, it is not only my responsibility to properly diagnose pets, but also to inform pet owners about potential diseases they can catch from their dogs. Below is some information about some of the more common zoonotic diseases that I have diagnosed in dogs.
If you suspect you and/or your pet have been exposed to any of the following, seek medical attention right away.
1) Toxocariasis: This disease is caused by a common parasite in animals, the roundworm. Anyone is susceptible to contracting this disease, but we find that children and people who accidentally eat dirt are at higher risk. Animals that have roundworms will shed the toxocara eggs in their feces, and when infected dirt is ingested with these eggs, people can contract the disease. In animals, toxocariasis can cause organ damage, respiratory disease and eye problems including visual deficiencies amongst other symptoms.
Toxocariasis can be prevented with good hygiene and a regular deworming program, set up by your veterinarian, for your pet. In humans, toxocariasis will generally resolve itself because the larvae can't mature in a human host.Read More…