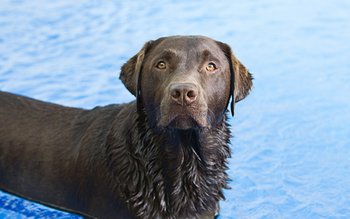 By: Liam Crowe
Bark Busters CEO and Master Trainer
Keeping your dog cool during the summer months is extremely important. Not only do dogs need to drink lots of water to keep cool— many dogs like to swim as well! Swimming is great exercise and will help to keep your dog from overheating; however, it is important to know that many dogs drown each year from pool accidents that could have been avoided. Read the following safety and training tips before you let Fido start working on his doggie paddle:
1. Teach Your Dog a Few Swimming Basics
Before allowing your dog free access to a pool, make sure he knows how to get out safely. If a dog falls into a river or lake, his instinct will tell him to turn around and try to get out where he fell in. This may work well in a natural body of water, but in a suburban swimming pool, dogs may drown if they adopt this instinctive action. Therefore, it is important to teach your dog where and how to get out of the pool, regardless of where he went in.