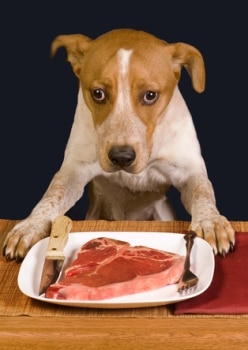 At Pets Best Insurance we want your pet to live a long, happy and healthy life. Part of a healthy dog and cat is finding the diet that is right for them. With so much discussion over raw diets versus non-raw diets, we asked the folks at All The Best Pet Care in Seattle, to give us their opinion on the pros and cons of raw diets. We are not promoting either side; rather we simply want to educate pet owners so they can make the best decision for their dog or cat.
Pros of raw diets:
1. Less processed ingredients
Can help build the immune system and provide a healthy skin and coat
2. Greatest preservation of naturally-occurring nutrients
Minimal processing preserves the molecular structure of the proteins, fats, vitamins and enzymes.
3. Less stinky stools and less litter box odor
Pets that are fed a raw food diet consistently have smaller, firmer stools that those fed canned or dry food.