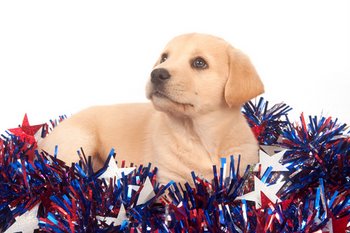 By Dr. Jack Stephens, a veterinarian and founder of pet insurance in the U.S. in 1981. Dr. Stephens leads the Pets Best Insurance team of pet lovers as president.
If your neighborhood is anything like mine, the booms and bangs of the Fourth of July celebration start a week before the official holiday. Every summer, pet owners are told to be mindful of pet health and safety during this holiday.
By following the simple tips below, you can prevent your pet from becoming what many animal shelters call a "July 4th pet," or a pet that becomes frightened, runs away and ends up in a shelter.
1. Keep your pets in a quiet room.
When fireworks start going off in your neighborhood, make sure your pets are safely confined in a quiet, escape-proof area. Drawing the blinds and turning on a radio can help muffle the noise. If you're celebrating at home, don't assume your dogs and cats will be okay outside just because you're there. The sudden pop of a firecracker could send them running.
2. Don't console a frightened pet.

Read More…