At the 2013 Westminster Kennel Club Show, Best in Show went to an Affenpinscher. Never heard of the breed?  How about the Nova Scotia Duck Tolling retriever or the Finnish Lapphund that were at Westminster? Learn about these three lesser known dog breeds below, who knows, maybe one of the breeds would be a great fit for your family and lifestyle!
1) Affenpinscher
According to the American Kennel Club: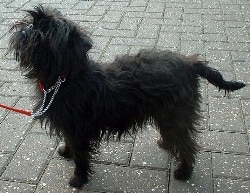 "The Affenpinscher (translated from German as Monkey-Terrier) is a peppy dog that has the face and impish nature of a monkey. This wire-haired terrier-like breed acts like a bigger dog as he proudly struts around. The coat of an Affenpinscher is usually black, but they also come in gray, silver, red, belge or black and tan.
One of the most ancient of toy dogs, the Affenpinscher originated in Central Europe (Munich, Germany and France), where they earned the nickname "little devil with a moustache." During the 17th century, small terriers were frequently kept around stables, on farms or in stores where they served as ratters. Bred down in size, these small terriers became companions in the home and kept mice from overrunning their mistresses' boudoirs."
2) Nova Scotia Duck Tolling RetrieverRead More…