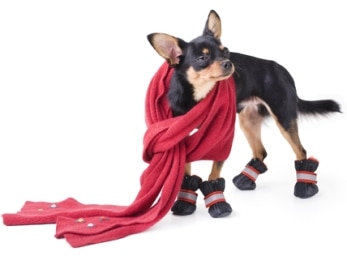 Dr. Marc is a veterinarian guest blogger for Pets Best Insurance, a pet insurance agency for dogs and cats.
First let's start with clarifying what shivering (or trembling) is versus what a seizure is.
A seizure is when the dog suddenly loses all body control, paddling their legs, jerking or convulsing. It can last for a number of minutes. To learn more, visit Dr. Fiona's blog post on dog seizures.
Shivering is when a dog can make eye contact with you and respond to you, but its body is shaking. Shivering can vary from minimally, to a lot, but the dog still has control of its body.
6 Reasons Your Dog May Shiver
1) The most common reason a dog shivers is due to being cold. A normal dog's temperature may be as high as 102.5 F. Since a dog's body is warmer than a persons, just touching your dog won't accurately let you know if they're cold or not. So be careful during the winter months with dogs being outside, especially little dogs.Read More…