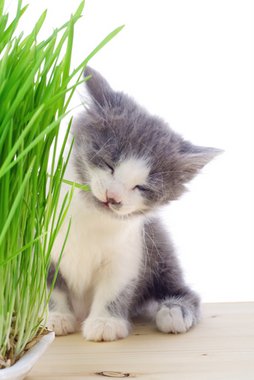 During the nice summer weather, I let my cats outdoors under direct supervision, and it always befuddles me how oftentimes the first thing they'll do is to start nibbling on grass. Why do cats eat grass? It's the same question that clients often ask me, and I have to admit that it's a question nobody, including us veterinarians, has a clear answer to. One thing is certain though- grazing is something that comes naturally to not just to domestic cats, but also to feral and wild cats. Let's look at some of the possible reasons and explanations for this behavior.
1. Help With Kitty's Digestion
Grass has very little nutritional value for cats. Grass is mainly fiber, and the cat's stomach doesn't have the enzyme needed to digest it. But grass can help a cat's digestive process by inducing regurgitation of undigested matter. This can be important for outdoor cats that eat mice, birds, and other small animals. After the meat is digested, the bones, feathers and fur stay in the cat's stomach. Eating grass makes the cat throw up, so the grass comes right back up along with the undigested animal parts. This is safer for the cat than having the undigested material try to pass through the intestines and cause irritation or possible blockage of the gastrointestinal tract.