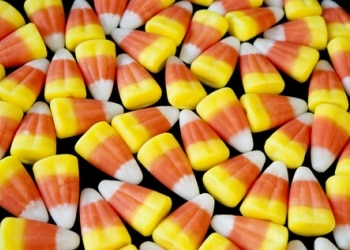 By: Dr. Eva Evans, a veterinarian and writer for Pets Best, a dog insurance and cat insurance agency.
Halloween is associated with spooky haunted houses, costume parties and most of all, Halloween candy! Certain types of candy can be toxic and very dangerous to pets. Below are are five dangerous Halloween candies for dogs.
1. Candy Corn & Other High Sugar Candy
Candies that are made with pure sugar can cause severe gas and diarrhea. The sugar not only provides a great source of food for gut bacteria to indulge on, it can also pull water into the colon and cause a bad case of diarrhea.
2. Chocolate Covered Raisins
These tasty treats combine two potentially deadly ingredients in dogs. Chocolate can cause severe vomiting, diarrhea and seizures. Raisins (and other grape products) can cause severe kidney failure. The two of these combined is the ultimate toxic nightmare for Fido. If your dog eats any chocolate covered raisins this Halloween, he needs to be taken to your veterinarian immediately for treatment.
3. Candy with WrappersRead More…