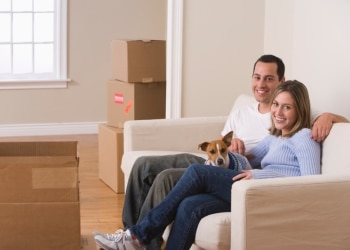 By: Ryan Vasso
For Pets Best
Whether you're a renter looking to buy or a home owner looking for more (or less) square footage— house hunting is no easy task, especially if you have a pet to consider. Once you find what you think might be the perfect house, you'll need to make sure it will also be a good fit for your furry family members. Pet insurance agency, Pets Best, has a few tips to help your family determine if the next place you move will be a good fit for you and your pet.
1. Will your pet be mostly indoors or out?
Will your pet be running around in the house or the yard? If the answer is indoors, choose a home with wide spaces and hallways so your pet has plenty of room to bound and play. You may also want to consider a home that has an area inside that you can "fence off", or has a separate room where your pet can relax when guests come over. If your pet will be an indoor/outdoor pet, keep the flooring in mind too. Wood floors are gaining popularity, however, they can also become scratched. If you prefer carpet, remember that muddy paws are part of the pet package. Try choosing a color that won't show a lot of wear and tear. If your pet is mostly outdoors, make sure there's room in the yard for a cozy dog house, and plenty of shade for warm summertime weather.