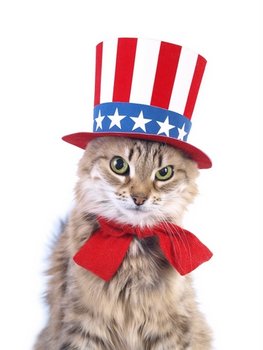 Happy Independence day! The fourth of July is a much anticipated time of fun, family and sun. Barbecues, parades and fireworks are sure to be included, encouraging the whole family to get out and celebrate. If you are like millions of Americans that consider your pets family, your four-legged best friend might be a part of the festivities. Here's how to keep your pet's health and safety in tact this July fourth.
1. Barbecue safety:
Who can resist those brown eyes as they plead for a bite of your steak? It can be tempting to feed your pet bits of your meal, but most veterinarians will agree that feeding meat and other rich 'people foods' to dogs and cats can be problematic.
Rich foods can cause pancreatitis, a dangerous condition causing inflammation of the pancreas that often requires hospitalization.
Bones, in general, should be avoided. Dogs can splinter off sharp shards that can cause intestinal irritation, or they can swallow the whole bone, which can cause a painful and dangerous obstruction. Occasionally this requires surgery to treat– which can be quite costly for pet owners without dog insurance.