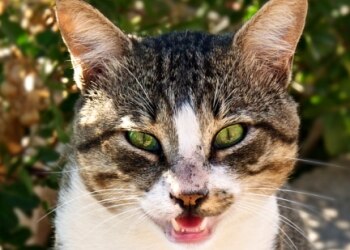 By Dr. Tracy McFarland, a veterinarian and writer for Pets Best Pet Health Insurance, a cat health insurance agency.

Here are three questions you should ask your veterinarian before your cat undergoes a dental procedure.
1. Why does my cat need a dental procedure?
Your veterinarian should be able to show you your cat's teeth, including tartar, gingivitis or visible feline resorptive lesions. Not every problem will be obvious with your cat awake, but unless your cat has a serious "cattititude", you should be able to see why a dental procedure is needed. By the way, a majority of cats already have at least the beginnings of dental disease by three years of age. You may already have a suspicion, based on your cat's bad breath, red gums or difficulty chewing. Left unattended, dental disease can lead to more serious problems, including heart, kidney or liver disease, due to bacteria from your cat's mouth entering and traveling in his or her bloodstream to these vital organs. Looking for dental disease is an important reason why an annual preventative wellness exam is so important. Indoor cats get dental disease too!
2. Is my cat healthy enough for a dental procedure?
While most cats can safely undergo the general anesthesia required for a thorough oral exam, intra-oral dental radiographs (x-rays), subgingival scaling, cleaning, polishing and any necessary extractions that go into a complete dental procedure, your veterinarian needs to perform a complete physical exam, and ideally, pre-anesthetic laboratory tests, to ensure that he or she has all the information necessary to select an appropriate anesthetic protocol. Pain management also has to be considered.Read More…