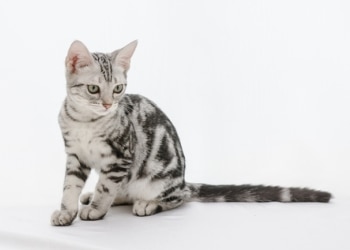 Dr. Fiona is a veterinarian and writer for Pets Best, a dog insurance and cat insurance agency.
About the American Shorthair
Weight:  females 8-12lb, males 11-15lb
Points of conformation: One of the larger breeds with sturdy muscling and bones. Broad face with prominent cheeks.
Coat: Dense crisp hair coat
Color: Silver tabby is the most common, but there are many accepted colors and patterns.
Grooming needs: Moderate, light brushing twice weekly is usually sufficient.
Origin: Likely descendents of the British Shorthair.
Behavior Traits: Easy-going temperament.
Is an American Shorthair cat right for You?

Read More…