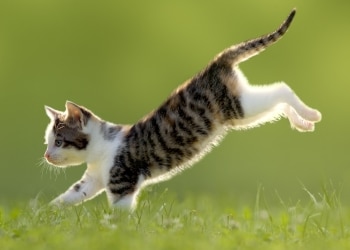 By Dr. Eva Evans, a veterinarian and writer for Pets Best Pet Insurance, a pet health insurance agency for dogs and cats.
As the saying goes, cats always land on their feet! But is this always true?
Cats do typically land on their feet when they jump or fall. The vestibular system is responsible for telling the cat when it is not right-side-up, and this system triggers the cat to rotate in mid-air to make sure its feet land first. Cats are very agile and flexible which helps them rotate during their fall to avoid landing on their head or back.
When cats land on their feet, their joints absorb the shock associated with the landing. The softer the landing material (carpet for example), the less likely a cat is to injure itself. It is widely known that cats falling from greater heights often sustain fewer injuries that those falling from just a few feet up in the air. Read More…