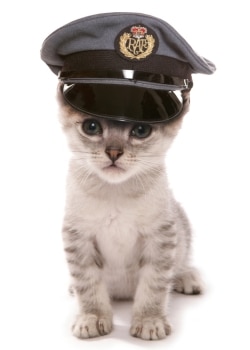 By Arden Moore, a certified dog and cat behaviorist with the International Association of Animal Behavior Consultants. Arden is an author, radio host, and writer for Pets Best, a cat insurance and dog insurance agency.
I'm living proof that you can make the friendly skies more feline friendly for those times when you need to relocate or wish to have your cat accompany you on an airplane. Murphy, Callie, Little Guy and Zeki – my cats past and present – have earned their pet etiquette wings for behaving like hush puppies on flights.
Here are nine tips to increase the chances of a smooth flight for you and your cat:
1. Study the pet policy.
Check the airline's pet policy in advance before booking a flight. Be aware that pet policies can change.
2. See the vet.
Before paying for the pet fee, book an appointment with your veterinarian who will conduct a nose-to-tail examination on your cat and deem that he is flight ready. Some airlines require you to present a pet health certificate before allowing your cat on board.
3. Practice the airport screening procedure. Read More…