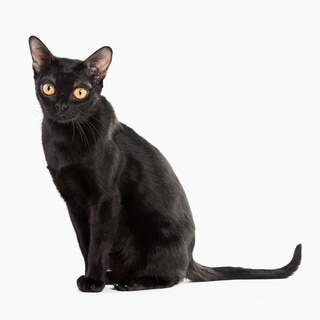 By Dr. Fiona, a veterinarian and writer for Pets Best, a dog insurance and cat insurance agency.
About the  Bombay
Weight:  6 -11 lb
Points of conformation: The Bombay cat is heavier than the Burmese with a proportionately larger head and longer body.  Muzzle is short and ears have a rounded tip.
Coat: Very glossy close laying short single hair coat.
Color: Jet black. Some tabby markings may be seen in kittens that usually fade.
Grooming needs: Low
Origin: Kentucky, USA
Behavior Traits: Gregarious, calm and friendly.
Is a Bombay cat right for You?Read More…