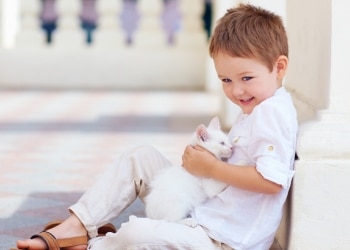 By Arden Moore, a certified dog and cat behaviorist with the International Association of Animal Behavior Consultants. Arden is an author, radio host, and writer for Pets Best Pet Insurance, a pet insurance agency for dogs and cats.
When I turned six, my mom gave me my first cat, a Siamese kitten I named Corky. He was a big cat with an apple-shaped head and a mouth that rarely stopped meowing. He followed me like a dog, especially whenever I carried a fishing pole. We had a small lake in our backyard and Corky astutely made the connection between the fishing pole and his favorite meal – a fresh-caught blue gill fish.
Most of all, he trusted me. He would wade into the water with me for a swim and jump in the canoe for a paddle ride around the horseshoe-shaped lake. I will never forget Corky. He was my first pet, my first confidant, my pal.
Even though I begged my mom for a cat since I could remember, my mom waited until I entered kindergarten. She later told me that she wanted to make sure that I was "mature" enough to handle the responsibilities of having a cat.
When it comes to setting up a successful connection in a safe manner, age plays a role. In general, toddlers lack the ability to understand how their actions impact others, including family pets. Childhood psychologists note the following:Read More…