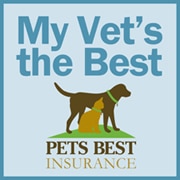 In 2010, Pets Best, a pet insurance agency for dogs and cats, became the nation's first pet insurance company to develop a contest aimed at recognizing the country's best veterinarians. Each year, thousands of veterinarians receive nominations from grateful pet owners. Their stories include heartwarming and sometimes harrowing tales of why they believe their vet is the best.
How to participate in My Vet's the Best
1. Nominate your veterinarian
2. Watch for finalists to be announced and vote for your favorite
Nominating Your Veterinarian
Our online form makes it easy for you to nominate your vet. Your story doesn't have to be long, but it should include details about how your vet helped your pet specifically, as well as information about any pet-related charity your veterinarian may support.
For more information, read the top 3 tips for a strong nomination.
Click here to nominate your veterinarian any time on the Pets Best website.
Please note: if you nominate your veterinarian and they do not become a finalist for voting, you will need to nominate them again to be considered for the next round of finalists/voting. However, all nominated vets in the calendar year will be entered into the running for the Grand Prize title and prize.
How Many Veterinarians Win?

Read More…