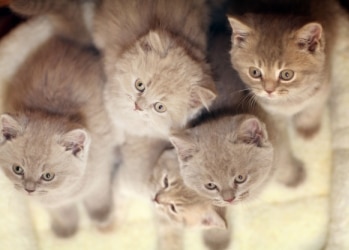 By Dr. Tracy McFarland, a veterinarian and writer for Pets Best Pet Insurance, a cat health insurance agency.
It's really amazing to me how quickly kittens go from helpless newborns who can find their mother's teat and suckle, but not much else, to fully functional speed racers who can climb, jump, pounce, and use a litter box perfectly in less than 2 months.
Dependent on Mom
When kittens are born, they are completely dependent on their mother for the first few weeks. The mother feeds them, cleans them, and stimulates urination and defecation for her kittens.  Moms start weaning their kittens at 4 weeks of age, usually completing the process by 6 to 8 weeks of age.
Eye Sight
Kittens are born with their eyes sealed shut. Their eyes open at about 7 to 10 days of age, but their vision develops over several weeks, finally reaching full clarity at about 12 weeks of age. If their eyes aren't open by 10 days, there is any discharge seeping from their eyes, or their eyes become resealed after opening, quickly seek veterinary attention. Infection trapped within sealed lids can permanently damage delicate corneas.
HearingRead More…