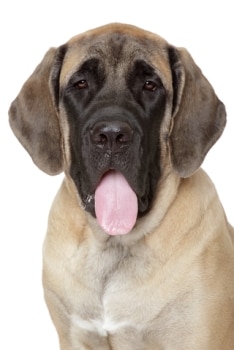 Dr. Fiona is a veterinarian and writer for Pets Best, a dog insurance and cat insurance agency.
About the Mastiff
Height (to base of neck): female 27.5″, male 30″
Weight:  170-190lb
Color: Brindle, apricot and fawn with black mask and ears.
Origin: Popular in England for centuries, but likely originated from Southwest Asia.
Coat: Double coat with short dense undercoat and straight coarse outer coat.
Life Expectancy: 8-9 years
Energy level: Low to moderate
Exercise needs: Moderate
Is a Mastiff the Right Dog Breed for You?

Read More…