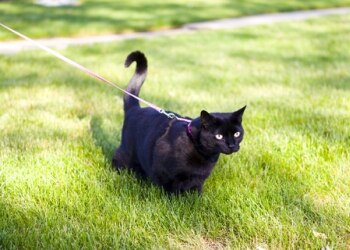 By Arden Moore, a certified dog and cat behaviorist with the International Association of Animal Behavior Consultants. Arden is an author, radio host, and writer for Pets Best, a cat insurance and dog insurance agency. 
Got a bold, confident, curious cat? You know the type – the feline who loves snooping in drawers, watching the happenings in your street from a window perch. He may gain a lot of mental and physical stimulation benefits from leashed walks with you.
Daily walks, when done safely, also help your cat maintain a healthy weight. And your indoor cat will benefit by having the opportunity to explore a varied environment.
Before having your cat join you for a walk in your backyard or neighborhood, consider these tips:

Read More…