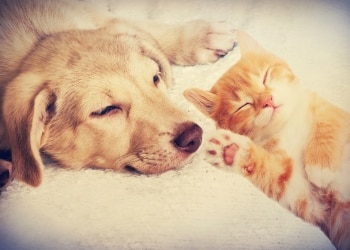 By Eva Evans, a veterinarian and writer for Pets Best, a pet health insurance agency for dogs and cats.
During the holidays many people add a new furry family member to their household. If you find yourself with a new cold-nosed four-legged friend this season, be sure to follow this important checklist to have everything ready for your new pet!
1. Food
Choosing a food that's appropriate for your new pet can be overwhelming. With hundreds of brands available, it can be difficult to sort through all of the options for a good pet food. Be sure to choose a diet that is consistent with your new pet's age and size. For example, a 6 month old Chihuahua should eat a small breed puppy food, while an 8 year old Great Dane should eat a giant breed senior formula. Be sure that your pet's new food contains an AAFCO feeding statement – this means that the food has been scientifically tested and proved to be healthy! Ask your veterinarian for a recommendation on the best foods available and remember, while cheap foods tend to be poor quality, the most expensive food isn't always the best.
2. Bedding
Your new pet will need a place to safely and comfortably rest after a long day of playing. If you plan to allow your new pet on the bed and sofa, they may not need their own bed as they will surely prefer yours! However, pets who will sleep in a crate at night or on the floor need an appropriately sized bed. Make sure that the bed is large enough for them to sprawl out comfortably and made from soft padding. Beds need to be washed, so a machine-washable fabric is best.
3. Crate or Carrier
New cats and kittens will need a carrier to safely transport them from the house to the veterinary office. New Puppies and dogs often need a crate as a safe place to sleep at night and when left alone at home. Crating your new puppy or dog will keep him safe from chewing on electrical cords, getting into toxic foods and chewing up your favorite pair of shoes! Crates are also very helpful when house training your new pet. Once your puppy or dog is comfortable in the house, potty-trained at night and no longer at risk of getting themselves hurt while unsupervised, you may no longer need the crate. Pets who are prone to getting themselves in trouble (getting into the trash, chewing up household items, counter surfing or fighting with housemates) at any age should be crated while unsupervised no matter what age they are. Providing your new pet with a comfortable carrier or crate that is big enough for them to turn around in also provides them with a "safe place" to hide when the stress of holiday parties and extended family are around.
4. VeterinarianRead More…