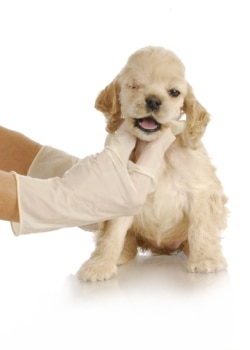 By Arden Moore, a certified pet first aid/CPR instructor with Pet Tech, a hands-on training program. Arden is an author, radio host, and writer for Pets Best, a pet insurance agency for dogs and cats.
Spring ushers in warm weather and motivates you to spend more time outdoors with your dog. Unfortunately, the great outdoors is home to more than 800 types of ticks capable of transmitting more than a dozen diseases, some lethal. Ticks can transmit Lyme disease, Rocky Mountain spotted fever and ehrlichiosis, to name a few.
According to veterinarians, your best defense against ticks causing disease in your dog is to keep him on year-round flea and tick control. And, always check your dog thoroughly from head to tail after taking a hike.
If you do discover a tick on your dog's coat, it's natural to be a bit startled at first. But take a breath and follow this five-step guide to safely and completely remove the tick:
1. Put on rubber gloves to prevent touching the tick directly and putting yourself at risk for contracting any tick-transmitting disease.

Read More…