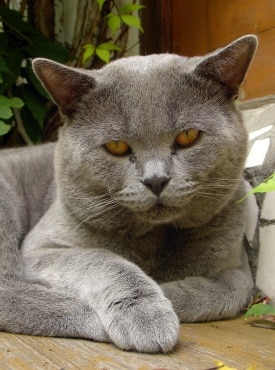 By Dr. Fiona, a veterinarian and writer for Pets Best, a dog insurance and cat insurance agency.
About the British Shorthair
Weight:  9-18lb (Females are typically smaller than males)
Points of conformation: Heavy set with a broad chest and short thick limbs and a large round head.  Short muzzle with prominent whisker pads.
Coat: Water-repellent coat is short, dense and soft.  Minimal undercoat.
Color: Any color is accepted except lavender, chocolate and Himalayan.
Grooming needs: low
Origin: British Isles
Behavior Traits: Quiet and undemanding.
Is a British Shorthair cat right for You?Read More…