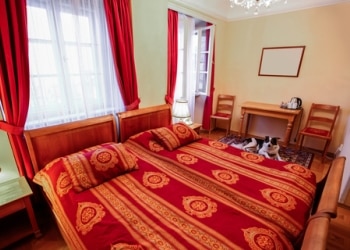 By Arden Moore, a certified dog and cat behaviorist with the International Association of Animal Behavior Consultants. Arden is an author, radio host, and writer for Pets Best, a pet insurance agency for dogs and cats.
More often than not, my business road trips include the company of my dogs, Chipper and Cleo or my therapy cat, Zeki. In the past few years, we've traveled to seven states inside my SUV.
Let me share eight tips to guarantee that the hotel staff will put out the welcome mat for your four-legged travel mate:
1. Hit the Internet before you hit the road
With the popularity of pets joining their people on road trips, there are more pet travel websites that offer lots of details on pet-welcoming hotels and their specific pet policies. Sites such as BringFido.com and GoPetFriendly.com include candid guest reviews and Fido Friendly Magazine's fidofriendly.com team of roving correspondents give first-person accounts of their stays with their pets at lodgings throughout North America.
2. Heed the hotel rules
Some hotels prohibit leaving pets in your hotel room unsupervised. Other guests do not want to hear yapping dogs or howling cats who may be frightened and wondering where you are when you want to go out for dinner or sightsee. Budget to include paying for a dog walker or doggy day care for times you will be out and about without your pet.

Read More…