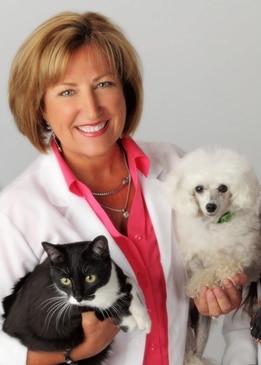 Each year, Pets Best receives thousands of nominations for our annual My Vet's the Best Contest—a contest developed to acknowledge the best veterinarians around the nation. This year, we've again completed the arduous process of selecting a group of finalists and we are pleased to announce the top seven.
Meet Dr. Pam Nichols. After earning her doctorate in veterinary medicine from Colorado State University in 1996, she opened the Animal Care Center in West Bountiful, Utah. She was awarded American Animal Hospital Association (AAHA) certification that same year, and in 2001, Animal Care Center won the Veterinary Economics Practice of Excellence Award. In 2006, Dr. Nichols was also honored with the Spirit of the American Woman Business Owner of the Year award.
Dr. Nichols is a nationally recognized speaker on the importance of rehabilitation in veterinary medicine. After earning her rehabilitation certification in 2004, she opened the K-9 Rehab Center. She now divides her time between rehabilitation and general veterinary medicine.
When not nursing her patients back to health, Dr. Nichols enjoys spending time with her 19-year-old daughter, Elaine, and her many dogs and horses. She also devotes her free time to her garden, where she finds great joy in harvesting and preparing its yield of fresh vegetables.Read More…