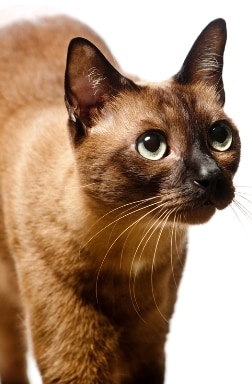 By Dr. Fiona, a veterinarian and writer for Pets Best, a dog insurance and cat insurance agency.
About the Burmese 
Weight:  8-13lb
Points of conformation: Small to medium sized body with round head, short to medium length muzzle with small round tipped ears.
Coat: Distinctive highly glossy thick, close-lying short hairs that are satin-like in texture
Color: Sable, frost, lilac, champagne and blue.
Grooming needs: low
Origin: Rangoon, Burma
Behavior Traits: Calm and friendly
Is a Burmese cat right for You?