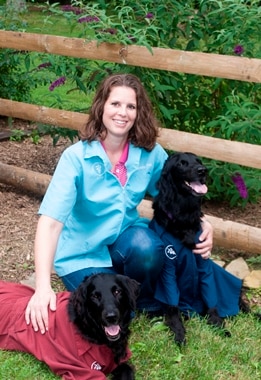 Each year, Pets Best receives thousands of nominations for our annual My Vet's the Best Contest—a contest developed to acknowledge the best veterinarians around the nation. This year, we've again completed the arduous process of selecting a group of finalists and we are pleased to announce the top seven.
Meet Dr. Greta Stamberg of Clarksburg Animal Hospital in Maryland. Dr. Stamberg was raised on a small farm in rural Barnesville, only a few miles from the clinic. She spent much of her childhood around animals—she rode horses, helped her family breed and raise sheep, and her mother showed Newfoundlands, so Dr. Stamberg was exposed to canine handling and training from an early age. She received her Bachelors degree in Animal Science from Cornell University, and graduated from Virginia-Maryland Regional College of Veterinary Medicine (Virginia Tech) in 1998.
During college, Dr. Stamberg worked as a technician and also remained actively involved in her family's llama breeding program. After graduation, she worked at a local practice for 5 years. In 2004, Dr. Stamberg's dream of owning her own practice came true as she opened the doors to Clarksburg Animal Hospital—a clinic housed in a historic building which was once home to the town's post office. In her spare time, Dr. Stamberg enjoys spending time with her husband Dewey, their son Trevor, and their cat Blinker. You can also find her hiking with the family's two flat-coated retrievers, Maddie and Daphne.
What do you enjoy most about being a veterinarian?Read More…