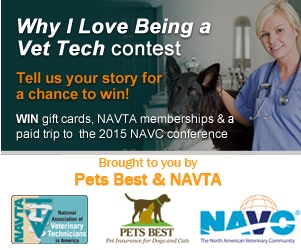 Pets Best has created a contest to give recognition to certified veterinary technicians across the nation. With the help of the National Association of Veterinary Technicians in America (NAVTA), Pets Best is proud to host the first annual Why I Love Being a Vet Tech contest.
How to participate in Why I Love Being a Vet Tech:
1. Share a personal story explaining why you chose to be a vet tech and why you love what you do
2. Finalists will be announced and voting opens to the public
How to enter the contest:
Our online form makes it easy for you to enter our contest. Your story doesn't have to be long, but it should include details about why you decided to become a vet tech, what you love most about it and why. Vet techs may enter the contest any time on the Pets Best website.
How many vet techs win?
Once per year, a panel of Pets Best representatives from the veterinary industry will select 8 finalists. The public will then vote to choose the grand prize winner. The grand prize winner of the contest will be announced during National Veterinary Technician Appreciation week in October.
Prizes and Awards
The 8 finalists will each receive a $200 Visa gift card and a one year membership to NAVTA. The finalist who earns the most online votes will be the grand prize winner and will win a trip to the North American Veterinary Community (NAVC) Conference.
Voting
When voting is open, you may vote on the Pets Best Facebook page or on the Pets Best website. Please note when voting is not open, the voting page will be blank.
Important dates to remember
The next Why I Love Being a Vet Tech contest is scheduled for Fall 2015. Dates and deadlines coming soon.
Stay in the Know
Follow Pets Best on Facebook & Twitter to get the latest updates on this contest and others throughout the year.
See official contest rules HERE