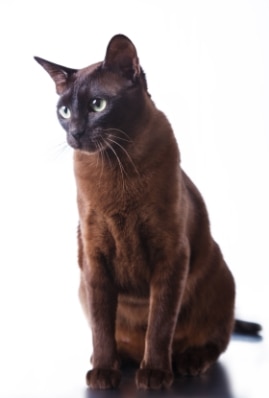 By Dr. Fiona, a veterinarian and writer for Pets Best, a dog insurance and cat insurance agency.
About the Havana Brown
Weight:  Females 6-8 lb, Males 8-10 lb
Points of conformation: Long head with hourglass muzzle, which is a breed distinguishing feature.  Round forward tilting ears Lithe medium length body, long legs and a long tapered tail.
Coat: Medium short and closely lying.
Color: Rich shiny chocolate brown with no other markings.
Grooming needs: Minimal grooming needs, weekly brushing.
Origin: Great Britain.
Behavior Traits: Very intelligent and affectionate
Is a Havana Brown cat right for You?Read More…