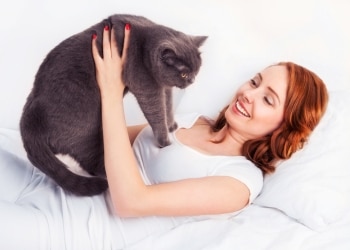 By Arden Moore, a certified dog and cat behaviorist with the International Association of Animal Behavior Consultants. Arden is an author, radio host, and writer for Pets Best Pet Insurance, a cat insurance and dog insurance agency.
There are cat people and there are dog people and then there are folks like me who fall in the middle, enjoying the company of both cats and dogs. I happily share my home – and my heart – with two dogs and two cats. In this age-old pet debate of which species ranks supreme, a communication gap definitely exists between people who declare felines are the finest and those who swear canines are doggone great.
For starters, let's identify why cats rank number one as a pet choice for some people. Among the feline pluses:
• Your cat will never need you to take them out in the middle of the night or in bad weather simply to perform necessary bathroom duties. That's the beauty of the invention of litter boxes.
• Your cat won't greet house guests by leaping on them and showering them with slobbery kisses. Cats have far more dignity than to succumb to this canine welcome.Read More…