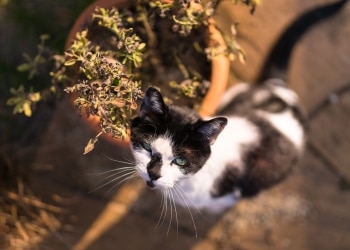 By Arden Moore, a dog and cat behavior expert and author of 26 best-selling pet books. She hosts the Oh Behave Show on Pet Life Radio and is a writer for the Pets Best pet insurance agency for dogs and cats.
You may be proud of your green thumb when it comes to growing an array of potted plants indoors until you discover your cat's own feline "gardening" habits. Yes, some indoor cats view your indoor greenery as opportunities to munch on leaves and deposit "feline fertilizer" in the soil rather than using their litter boxes.
The consequences can be messy and smelly. Your cat's urine inside the rich soil will emit a strong odor and his digging will spill dirt all over your floor. Aggressive digging cats can even uproot your prized plants and cause them to wilt and die.
I'm happy to report that you can have the best of both indoor worlds: a contented indoor cat and thriving potted house plants. First, it is important to understand why some cats do this.
Here are three top reasons behind this unwelcome cat behavior:
1. Some cats like the feel of soft dirt to dig out places to urinate or defecate.
2. Some cats are giving you a less-than-subtle signal that they view that their litter boxes are not clean enough to use.
3. The litter boxes you select may be too small for their liking or in locations that some cats wish to avoid – such as next to a noisy washing machine.Read More…