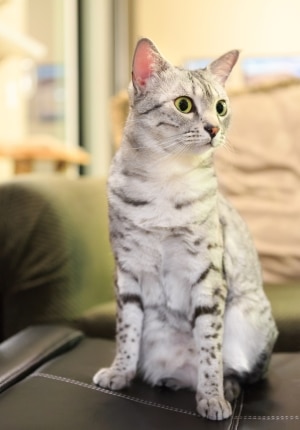 By Dr. Fiona, a veterinarian and writer for Pets Best, a dog insurance and cat insurance agency.
About the Egyptian Mau
Weight:  5-12lb, males are larger than females
Points of conformation: Medium sized well muscled body with pointy tufted ears.  Medium long tail with wide base.  They possess a skin flap from the point of the knee to the flank.
Coat: Short-medium length coat is silky and lustrous and can vary in texture.
Color: Original coat was spotted bronze, but spotted silver and smoke are also accepted.  Agouti hairs have at least two bands of color.
Grooming needs: Low maintenance, light occasional brushing is recommended.
Origin: Egypt.
Behavior Traits: Vigorously playful and fiercely loyal
Is a Egyptian Mau cat right for You?Read More…