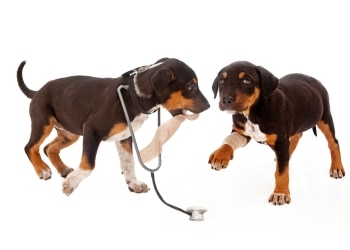 By Therese Pope, a freelance writer based in California.
Even if you keep a close eye on your furry family members, accidents can still happen. In 2014, the ASPCA's Animal Control Center handled more than 167,000 calls that involved pets who were exposed to poisonous substances. 16 percent of those calls were related to accidental ingestion of human medications. Curious kittens and puppies tend to chew and swallow harmful items. Pets can accidentally ingest toxic household cleaners and human food, such as chocolate, is life-threatening for animals.
By purchasing an Accident Only pet insurance plan, your pets are covered for unexpected emergency accidents and injuries. Pets Best offers a budget friendly Accident Only plan for both dogs and cats.
Playful, Active Pets Are at Higher Risk for Accidents
Some animal breeds tend to be more playful and energetic, and are known for getting into mischief. For example, Beagles are escape artist dogs and Australian Shepherds love to jump over high fences which increase their chance of injury. If you live in rural/remote areas, especially in the southern or southwestern U.S, your pets could be at risk for snake bites. Pet MD reports there are fifteen different species of poisonous rattlesnakes in the United States.
Even if you supervise pets, accidents can still happen while out walking your dog or at the dog park. Pet Guardian Angels of America report that the most common injuries in dogs and cats include lacerations, bite wounds, torn nails, insect stings and bites, abrasions, and punctures (caused by a sharp nail or broken glass).
Accident Plans Don't Cover IllnessRead More…