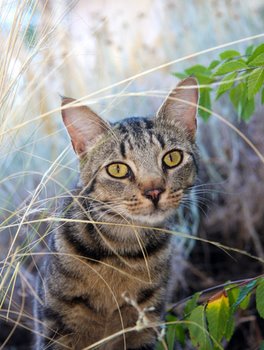 By: Dr. Jane Matheys
Associate Veterinarian
The Cat Doctor Veterinary Hospital
For Pets Best Insurance
While many cat owners are are aware of potential pet health dangers outdoors– there's one that's sometimes overlooked which can end up costing pet owners thousands of dollars at the veterinarian. That's why this time of year we need to be on watch for "invaders" from the plant world. As temperatures soar and rain is scarce, grasses and weeds dry out and seeds begin to scatter. This can mean trouble for cats that roam outdoors.
Cheat grass is one of the more common and invasive weeds found in many parts of North America and especially in the West. It is also known as June grass, Downy Brome, grass awn, foxtail, or by the scientific name, Bromus tectorum.
The danger for cats lies in how invasive the dry seed pods found in late summer and early fall can be. These pods have one-way microscopic barbs that allow the seed to work its way into fur, skin and mucous membranes, but not work its way back out, much like the one-way movement of a porcupine quill.Read More…