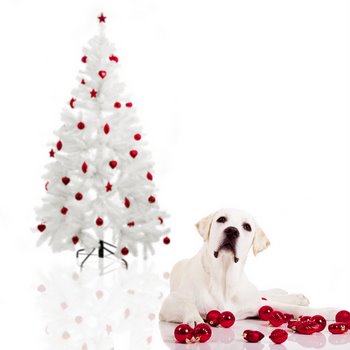 By Liam Crowe, Bark Busters CEO and guest writer for Pets Best, a pet insurance agency for dogs and cats
For many families, December holidays bring a change in routine and lots of extra commotion to the household— which can be stressful for your dog. Although you may be versed in pet health and behavior, with all the extra commotion, your pet many begin to exhibit unusual or undesirable behaviors like stealing food, jumping up on people, or growling or snapping at visitors.
Although it's a good idea to have pet insurance in case of an accidental illness or injury during the holidays, the following tips can help keep your dog calm, happy and safe in your home this season.
1. Front door behaviors
Whether your dog perceives it as exciting or alarming, a knock on the door can be a stimulating and potentially dangerous event. It is natural for him to want to find out who the visitors are and to determine if they are friendly or not. However, a dog that behaves in an out-of-control manner at the sound of the doorbell is not only annoying, but unsafe. Your pet could harm himself by escaping out the door or getting underfoot and becoming a trip hazard. Your dog could also hurt others by knocking elderly visitors or children down, or even becoming aggressive to the visitors.
What to Do

Read More…