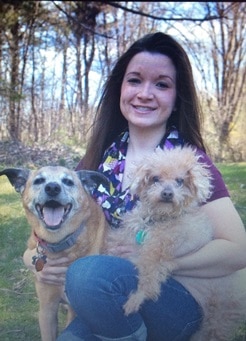 At Pets Best, we recognize that the veterinary industry is largely powered by the hardworking and dedicated certified veterinary technicians across the nation. To acknowledge their tireless efforts, we created the Why I Love Being a Vet Tech contest, now in its second year. In partnership with the National Association of Veterinary Technicians in America (NAVTA), we are pleased to announce the top eight finalists for 2015.
Meet Gianna Salvadore, a certified veterinary technician at Anthracite Animal Clinic in Ashland, Pennsylvania. She began working as a vet tech immediately after graduating with her degree in May, 2014. In her free time, Gianna enjoys taking her dogs for walks, reading, baking, crafting, shopping, and spending time with her family, friends, and boyfriend.
Gianna describes her three pets as fitting into her family perfectly—so much so that she "could not imagine life without them." There is Marvin, a 9-year-old domestic shorthaired cat she took in when its previous owners no longer wanted him; and two dogs: Louie, a 14-year-old mixed breed; and Beau, an 11-year-old miniature poodle which experiences mobility challenges.
Read on to learn more about Gianna and her contribution to the veterinary community.Read More…