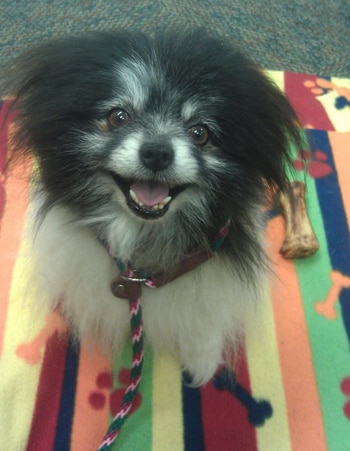 Last week, thousands of Pets Best Insurance Facebook friends and other pet lovers shared our picture of an adorable found dog, hoping to help reunite him with his family. Pets Best claims adjuster Kate had found him wandering alone one night. The Pomeranian wasn't injured or starving, but he looked a little rough and didn't have a microchip or a collar.
Days went by and we pursued a dozen leads as the pup's picture went viral on Facebook, but none of them panned out. Kate notified the local shelters and placed ads on Craigslist, and pet insurance employee Shirle took the little guy under her wing. He was treated to a bath, grooming, lots of treats, cuddles and playtime with other doggies. Shirle was falling in love with the dog (like so many of our friends who offered to take him), and was thinking about naming him Panda.
Mountain Getaway
Meanwhile, Idaho Falls resident Melissa was just wrapping up a long camping trip on the other side of the state. When she got home, she logged into Facebook to see what she had missed. Scrolling through her newsfeed, she saw a picture of a familiar little dog on her friend's page. "Dang, that dog looks just like mine!" she said to her daughter. She called her dog sitter, her niece, who reassured her that Mikey was still with her in Boise.