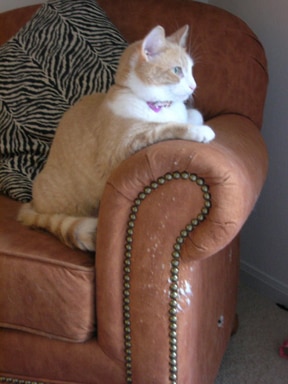 The year was 2004, and I had just moved to Texas for school. My kitties moved with me and everything was going well. I had even invented a new cat toy I called "Fishing for Cats", which my cats loved.
One day after class, I came home to discover that my orange tabby Monica had swallowed a 4-foot piece of ribbon from the toy. It looked like most of it had come back up in a mess on the floor, so I thought we were in the clear. No such luck.
Over the next few days, Monica refused to eat and became lethargic. She was still drinking water, but I worried anyway. I was a broke graduate student with no car, living on the outskirts of a large city. I was planning to buy a car with my tax refund, but for the time being, I had classes with strict attendance schedules and a long daily bus commute. How on Earth was I going to get my cat to a vet? And how would I pay the vet bill?