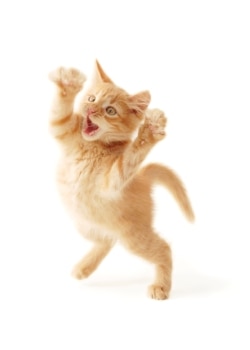 By Arden Moore, a certified dog and cat behaviorist with the International Association of Animal Behavior Consultants. Arden is an author, radio host, and writer for Pets Best, a cat insurance and dog insurance agency.
Don't let that minute size of your newly adopted kitten fool you. Your tiny tabby shares the same prey drive to stalk, chase and hunt as lions roaming in the jungle.
That's why it is vital that you don't initially dismiss your kitten's playful love nips to your hand or ankle as merely playful love bites. Unchecked, her biting and paw swatting will intensify and could cause physical harm to you and your house guests. Deep puncture wounds from cats have landed people in hospitals to receive treatment for Cat Scratch Fever, a disease caused by the Bartonella henselae bacteria. Affected persons can develop skin lesions, fever, fatigue and in severe instances, systemic infections.
When you bring home your kitten, school her on what is acceptable play and interaction with people immediately. Here are five effective strategies designed to tone down your kitten's desire to nip and claw people:

Read More…