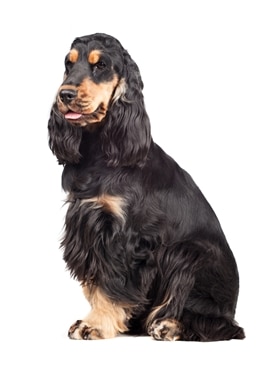 Dr. Marc is a veterinarian and writer for Pets Best, a dog insurance and cat insurance agency.
About the English Cocker Spaniel
Height (to base of neck): females 15 – 16″, males 16 – 17″
Weight:  females 26 – 32 lb, males 28 – 34 lb
Color: Solid colors, tan markings and parti-colors are accepted.
Origin: England
Coat: Medium length feathered hair.
Life Expectancy: 12 – 15 years
Energy level: High
Exercise needs: Moderate
Breed Nicknames: Cocker, Cocker Spaniel
Is an English Cocker Spaniel the Right Dog Breed for You?Read More…