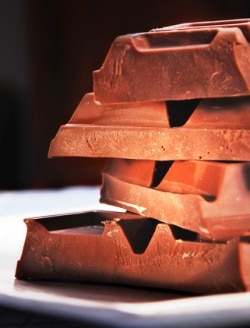 Dr. Marc is a veterinarian guest blogger for pet insurance provider, Pets Best. 
Signs and Symptoms
Though there is an extensive list of possible symptoms after chocolate ingestion, the most common are as follows: Vomiting, diarrhea, hyperactivity (such as excitation, restlessness, or panting), tremors and convulsions, seizures, racing heart rate, arrhythmia (when the heart cannot beat properly in a normal rhythm), and in severe cases death.
After chocolate ingestion, it takes nearly four days for it to work out of an animal's system. Because of this, symptoms can progress and last for the entire 4 days that it takes an animals body to clear the toxin.
Why and How is Chocolate Toxic
Chocolate is processed by grinding hulled cacao beans. The product that results from this grinding is called chocolate liquor. Within the chocolate liquor is a chemical called theobromine. This chemical is the reason that chocolate is toxic to pets (both cats and dogs). The more chocolate liquor found in a product, the more toxic it is to a pet, therefore less of it needs to be ingested for more serious symptoms. The highest theobromine content is found in baking chocolate, followed by semisweet/dark chocolate, and lastly milk chocolate. Toxic doses of theobromine are 9 milligrams per pound. Meaning that a 20-pound animal would need to eat 8.2 ounces of milk chocolate, or just 0.9 ounces of baking chocolate to achieve a toxic dose.
What to Do if Your Dog or Cat Eats Chocolate (more…)