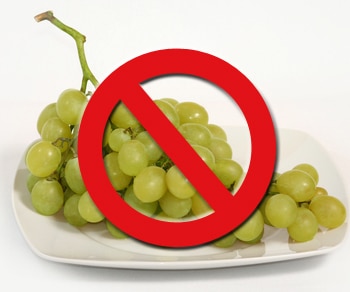 Dr. Marc is a veterinarian guest blogger for pet insurance provider, Pets Best.
Ingestion of grapes or raisins may result in acute kidney failure in dogs. At this time, anecdotal evidence suggests that cats may also be affected.
Signs and Symptoms
Symptoms usually begin within several hours after ingestion. Initially, symptoms may include vomiting and lethargy. This may proceed into an increase in thirst and urination, weakness or the inability to stand, and possibly the inability for the kidneys to produce urine. Once an animal has reached this state (which may occur within 24 hours of ingestion), treatment may be ineffective in reversing the toxicity and death may ensue.
Why and How Are Grapes and Raisins Toxic? (more…)