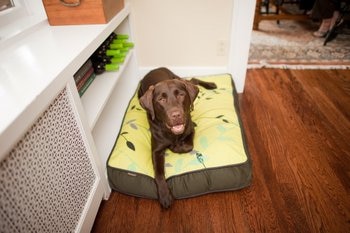 Pet insurance provider, Pets Best Insurance, recently asked dog owners what they'd buy for their dog if they had an extra $100. The number one answer? A dog bed.
So Pets Best asked Phuong Phillips of P.L.A.Y. pet products, for her top tips when purchasing a dog bed.
1. Durability
Like all products, owners should look for a pet bed that is high-quality and made to last. While it's easy to find a cheap pet bed, there's a good chance you'll go through those just as fast as you go through treats. Poor craftsmanship and low-quality materials can require frequent replacement. Make sure you check out what the filler is made out of; often times it isn't washable. If you've had a pet before, you've smelled the wet-dog scent, seen the muck your pet drags in, and know that accidents can happen. Additionally,  most dogs shed, and some shed a lot! Look for a pet bed that is 100% washer and dryer friendly and made with durable materials meant to last.