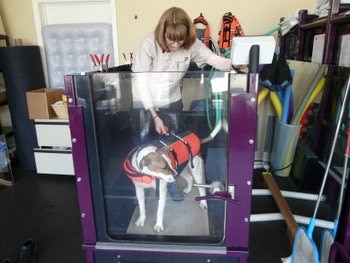 There's a new field emerging in veterinary medicine and it's making a big difference in pet health, including how pets move and function— as well as age.
Physical rehabilitation therapy, or rehab therapy, uses specially designed equipment, exercises, and techniques to help dogs and cats regain physical abilities lost to illness, injury, surgery, or age. (Sound like physical therapy for humans? Basically, it is. But because, in some states, the term "physical therapy" can only be used in reference to humans, most veterinary specialists refer to animal physical therapy as "rehab therapy.")
How It Works
The goal of pet rehabilitation therapy is to help dogs and cats of all ages learn to move better, function better, and feel better. But the ways that rehab therapists accomplish that goal vary based on each pets' unique needs and diagnosis.