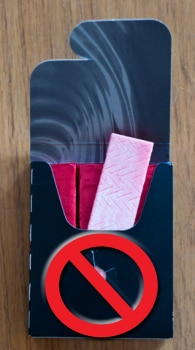 Dr. Marc is a veterinarian guest blogger for pet insurance provider, Pets Best.
What is Xylitol?
Xylitol is a sugar alcohol that is used to replace sugar in products. It is commonly used in sugar-free gums, mints, candy and even toothpaste. Check labels and keep any products with xylitol far away from your dogs. Xylitol is a known toxin in dogs, however it is not clear the affect it has on cats.
Why and How is Xylitol Toxic to Dogs
In humans, xylitol is absorbed very slowly and has little effect on blood sugar and insulin levels. In dogs, however, xylitol is absorbed very rapidly into the bloodstream. This rapid absorption can cause a widespread release of insulin, which is what causes hypoglycemia (low blood sugar). Xylitol can also cause liver failure, which may lead to bleeding problems and death.
What Amount of Xylitol is Toxic?
Very little xylitol can be extremely toxic to dogs. In a 20 pound dog, as little as one or two pieces of gum may cause hypoglycemia (0.1g/kg).
Signs and SymptomsRead More…