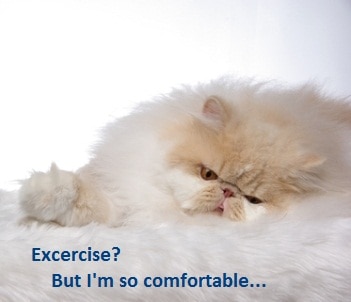 A 2011 study by Association for Pet Obesity Prevention (APOP) found that over 50% of cats were either obese or overweight. It's time to make a resolution for your tubby tabby.
Side Effects of Cat Obesity
Obesity has been associated with increased risk for serious medical conditions in cats.  Studies have shown that obese cats are five times more likely as cats of normal weight to develop lameness requiring veterinary care.  Excess weight puts stress on joints, muscles and ligaments, and can predispose cats to soft tissue injuries and osteoarthritis.  Obese cats are four times more likely to develop diabetes mellitus, are two times more likely to suffer non-allergic skin conditions such as dry, flaky skin and chin acne, and are at risk for a potentially life-threatening liver disease called hepatic lipidosis.  All of which also have a side effect to your wallet. Pet insurance can help cover medical issues with cats but to alleviate potential financial and emotional stress on yourself, it's best to help your cat shed the pounds.
Factors that Affect ObesityRead More…