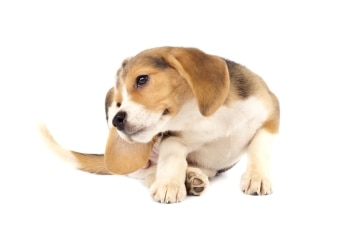 By Dr. Eva Evans, a veterinarian and writer for Pets Best Pet Insurance.
Spring is here and with it comes allergy season. People aren't the only species affected by allergies. Many mammals, including your cat or dog, can have allergy-related issues as well. These five signs could mean that your pet is suffering from allergies.
1. Itching
While there are many causes of itching in dogs and cats, allergies to pollen, dust, fleas and even certain food ingredients can cause itching. If you notice a sudden change in your dog or cat that including excessive scratching, hair loss, crusts or scabs, red skin or irritation, have your pet seen by a veterinarian. Itching can be seasonal if it is related to season allergy such as pollen, or it can be year-round if your pet is constantly exposed to an allergen
2. Red, Watery Eyes
pets can experience some of the same symptoms of allergies as humans. Red, watery, itchy eyes are a sign of environmental allergies. These typically worsen in the spring and fall, depending on your geographical location and what allergens your dog is susceptible to. However, in warmer climates, these signs can happen at any time of the year. Pets may begin rubbing their faces on carpeting, bedding or furniture as well as scratching and pawing at their eyes.
3. Paw LickingRead More…