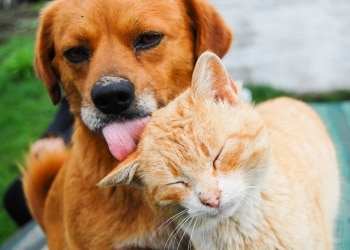 By Dr. Eva Evans, a veterinarian and writer for Pets Best Pet Insurance.
There are three main types of allergies seen in dogs and cats. Depending on the type of allergy, pets can experience itchy skin, hair loss, skin infections, ear infections, sneezing, watery eyes, vomiting and soft stool. The three main categories of allergies in dogs and cats include environmental allergies, food allergies, and flea allergies.
1. Environmental allergies (also known as Atopy) are caused allergens in the environment such as dust, pollen and dander. Your pet could be allergic to things ranging from ragweed to cockroaches or mold to dust mites! Often times, this type of allergy is worse in the spring and fall, and will improve in the winter. This correlates with the how much of the allergen your pet is exposed to. If you live in a warm climate with a year-round growing season, then your pet may have allergies year round. Typically, pets with environmental allergies will lick and chew on their feet excessively and they may have recurring ear infections, itchy or red skin, hair loss and skin infections. Milder symptoms include sneezing and red, watery eyes. There are different treatments for this type of allergy which include anti-histamines, immunomodulating drugs such as Atopica, and allergy shots (similar to allergy shots in people, but these can be given orally as well). Talk to your veterinarian if you think your dog has environmental allergies.
Interesting Fact: Environmental allergies are the most common pet insurance claim Pets Best receives for dogs!Read More…