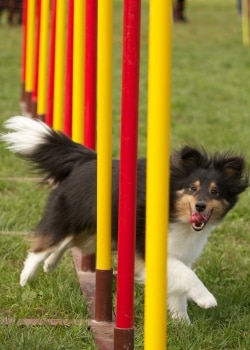 By Arden Moore, a certified dog and cat behaviorist with the International Association of Animal Behavior Consultants. Arden is an author, radio host, and writer for Pets Best Pet Insurance, a dog insurance and cat insurance agency.
Got a Velcro® dog? By that, I mean a dog who seems to shadow your every step in the house – perhaps even causing you to trip over him. Channel that need to cling too close to you by teaching him this crowd-pleasing trick that should also instill confidence in him.
To be successful, you need to strike a balance between having your dog being attentive, but not being too energetic because you need to work on your timing and balance. He needs to know "watch me" cue and happily following hand signals. This is a key trick used in the popular sport of agility with canine participants weaving in and out of stationary poles.
Here is your 11-step guide:
1. Stand with your legs apart.Read More…