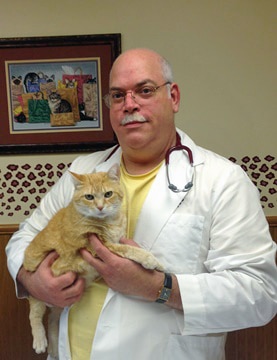 Each year, Pets Best receives thousands of nominations for our annual My Vet's the Best Contest—a contest developed to acknowledge the best veterinarians around the nation. This year, we've again completed the arduous process of selecting a group of finalists and we are pleased to announce the top seven.
Meet Dr. Arthur Hulshizer (also known as "Dr. Bud") of Community Veterinary Practice in Bath, Pennsylvania. Dr. Bud graduated from Delaware Valley College of Science and Agriculture in 1985, then went on to receive a Master of Science Degree in Biology from East Stroudsburg University. In 1993 he graduated from the University of Pennsylvania School of Veterinary Medicine.
With 22 years of experience in the veterinary field, Dr. Bud worked at several private veterinary hospitals and a local emergency hospital. In 2006, he started his own private practice. In his free time, Dr. Bud enjoys reading, relaxing at the beach, and spending time with friends and family. His other love is art, and he looks forward to when he can spend more time painting.
What do you enjoy most about being a veterinarian?Read More…