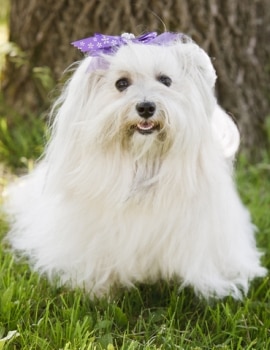 Dr. Fiona is a veterinarian and writer for Pets Best, a dog insurance and cat insurance agency.
About the Havanese
Height (to base of neck): 9-10.5″
Weight:  8-11lb
Color: Many accepted colors including black, blue silver, gold, cream, white, champagne or chocolate.
Origin: Isle of Malta
Coat: Silky double coat with soft short undercoat covered by long profuse outer coat which can be curly or straight.
Life Expectancy: 12-15 years
Energy level: High
Exercise needs: Moderate
Is a Havanese the Right Dog Breed for You?Read More…