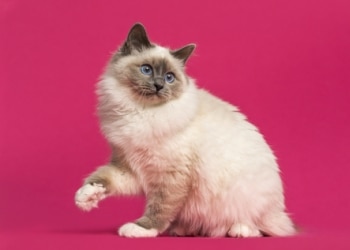 By Dr. Fiona is a veterinarian and writer for Pets Best, a cat insurance and dog insurance agency.
About the  Birman Cat
Weight:  10-18 lb
Points of conformation: Face resembles a Siamese, but is rounder and fuller.  They are heavier boned than Siamese, and have small wide set ears.  They have large round paws and are long bodied.
Coat: Medium-long single coat.
Color: Kittens are born white and then develops the seal points.  White mittens 1/2 to 3/4 up to the ankles is desired.
Grooming needs: Low to moderate, daily brushing is recommended.
Origin: Burma (Myanmar)
Behavior Traits: Playful and friendly, but with a territorial tendency.
Is a Birman Cat Right for You?Read More…