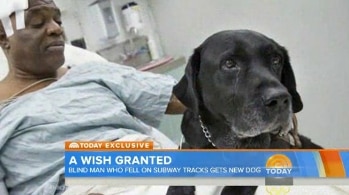 In December 2013, a blind man named Cecil Williams fell onto the subway tracks in New York City when he fainted. His service dog Orlando, a black lab, jumped down after him. Orlando huddled on top of his owner to help alert the oncoming subway train. Both Williams and Orlando were still struck by the train, but amazing only suffered minor injuries.
Williams called Orlando his angel for saving his life. He also said that he and Orlando protect each other. This amazing story went viral.
The issue is, Orlando is 11 years old, and was about to retire from being a service dog. However, Williams' insurance won't cover retired dogs. After the public got wind of this, many people donated and now Orlando is able to stay with his longtime best friend. In addition, Williams is receiving a new service dog, a yellow Labrador named Godiva who recently graduated her training.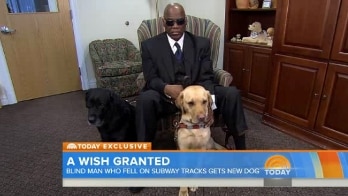 Williams counts himself as lucky that he now has Orlando and Godiva to protect him. He told the Today Show, "The spirit of good will, it exists," he continued, "In the world you see a lot of negative things, but I try to focus on the positive."

Read More…