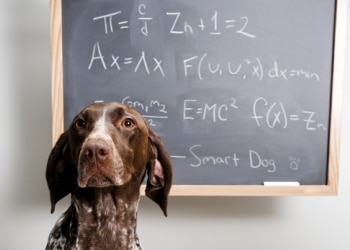 By Arden Moore, a certified dog and cat behaviorist with the International Association of Animal Behavior Consultants. Arden is an author, radio host, and writer for Pets Best Pet Insurance, a dog insurance and cat insurance agency.
Is your dog an obvious Einstein, having mastered many human words and complex demands? What if your dog is a secret Einstein and you just didn't know it yet? Well now you can find out with this fun dog IQ test.
Here's how to test your dog's IQ.
Step 1. Line up three empty plastic buckets on the floor. Turn them upside down.
Step 2. Get your dog to sit in front of the three buckets in a room free of distractions.
Step 3. Hold up your dog's favorite treat in front of his face and then place it under one of these buckets.
Step 4. Distract him by telling him to stay and then walking behind him and asking him to heed the "watch me" cue. Do this for just a few seconds. You are intentionally testing his canine smarts by diverting his attention temporarily away from the hidden treat.
Step 5. Resume your position by the buckets and then ask him to find the hidden treat.
Canine IQ barometer. Brainy dogs make beelines to the correct bucket, knock it over and grab the treat in mere seconds. They possess the cognitive development to know to look behind – or underneath – a solid object to find the missing treat. Not—so-smart dogs may paw over the other two buckets first before finally realizing where the hidden treat really it.Read More…